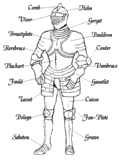 "Soldier of Love (Lay Down Your Arms)" is a 1962 song, written by Buzz Cason and Tony Moon, originally recorded by soul artist Arthur Alexander, appearing as a B-side to his single "Where Have You Been". The song was later covered by The Beatles during a 1963 session on the BBC, which is available on the album Live at the BBC.
(click on the 'divshare' logo to download the mp3)
Hello Folks! We here at the Paul Starling blog have decided to start a weekly feature we would like to call "The 1960's Cover Project". Each week I will record a new cover of a 1960's song that I find to be of rare or interesting value. Rare or interesting you say? What does that mean? Well it means you won't be hearing "Good Vibrations" or "My Girl". You WILL be hearing songs that you may have never heard before, which, is the goal of this project. The idea is that you will hear my version and then seek out the original (which will always be much better). As most of you know I am a complete Beatle-nut, and one of the things (besides the other million) I've always enjoyed was finding the original versions of songs they would cover. I've found countless artists that I would have never heard of this very way. Some of those are: Little Richard, The Shirelles, Del Shannon, Peter & Gordon, Dusty Springfield, & this weeks artist; Arthur Alexander.
I first heard "Soldier Of Love" when my parents bought me "The Beatles: Live At The BBC" for my 13th birthday. I can remember driving with my whole family to my birthday dinner and listening to "Soldier Of Love" over and over again on my discman. I couldn't believe The Beatles never officially recorded this song at Abbey Road. (I must clear something up for you non-Beatle-nuts. The "Live At The BBC" album contains songs the band recorded specifically for the BBC's radio shows of the time. This means that many songs they played live were recorded (not very well) for the radio, but not for any of their official albums) "Soldier Of Love" always stuck in my mind as the highlight of the BBC album, and I found myself using it as a warm up song quite often. The chords are very simple (Bm,D,Em,A etc) and the melody just seems cut thru so very nicely. My cover version above stays pretty close to the Beatles version, with maybe a little bit more electric guitar than they had. I highly recommend checking out their version on "Live At The BBC".