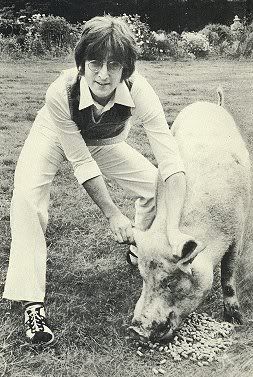 After the Beatles split of early 1970, Lennon & McCartney started one of the most bitchy public break-ups of all time. Many things were said in the press, with many people taking sides. I personally don't care about all of that nonsense. What I think is interesting is how they took jabs at each other in their solo songs. I will now list various songs and which lines each Beatle took as a slap in the face from the other.
1. Man We Was Lonely - this McCartney song appeared on Paul's first solo album "McCartney" released 1970. The line "I used to ride on my fast city line, singing songs that I thought were mine alone" most certainly refers to the Lennon/McCartney songwriting partnership.
2. I Found Out - Lennon's song from his first solo album "The Plastic Ono Band" released 1970. Filled with jabs at Paul & the Beatles in general, the lines "I told you before stay away from my door, don't give me that brother brother brother brother" & "i've seen religion from Jesus to Paul" are obvious in their meaning.
3. Too Many People - appears on McCartney's "Ram" album released 1971. McCartney himself has admitted this song is about his feelings towards Lennon & Ono at the time. The song opens with Paul yelling "piss off yeah, yeah, yeah". Other lines "too many people preaching practices" "too many people never sleep in late" "you took your lucky break and broke it in two" "too many hungry people losing weight" all refer to Lennon & Ono. This song is what sent Lennon into his McCartney hating best.
4. How Do You Sleep? - appears on Lennon's 1971 "Imagine" album. Leave it to Lennon to cut the bullshit and just come right out and sing a full fledged attack on McCartney. Every single lyric to this song was meant to hit McCartney, and hit him hard. Perhaps the single biggest blow didn't even come from a lyric, but the fact that ex-Beatle George Harrison plays the stinging lead on the track.
5. Dear Friend - appears on Wings 1971 album "Wild Life". After "How Do You Sleep?" McCartney had enough sense to try and put an end to the feud with this track. Sung as an open letter to Lennon, McCartney clearly feels hurt and tries to remind Lennon of their old friendship.
6. Let Me Roll It - appears on Wings 1973 album "Band On The Run". Some have speculated that this "Lennon-esque" track was McCartney's attempt to let Lennon know the battle was over. After its release, Lennon & McCartney never released another song bitching at each other.