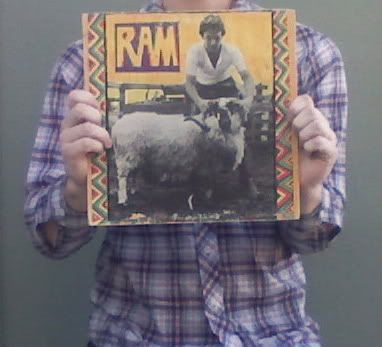 hello friends. i'd like to introduce to you a new segment to the paul starling blog, 'album of the week'. each week (or when i remember to do it) i will pick and discuss one of my favorite albums. the point of this being that if you like my music then you may like my musical taste and discover some albums you haven't yet discovered. anyway here goes.
this weeks choice is one of my all time favorite albums: 'ram' by paul mccartney. 'ram 'was paul mccartney's second solo release after the breakup of the beatles & his first true solo 'studio' recording. i say studio because he recorded his first solo album 'mccartney' almost entirely in the living room of his london home, which a few minor overdubs done at the nearby abbey road studios.
'ram' also marked the first time mr. mccartney would record outside of england, starting a trend he seemed to enjoy for the rest of his recording carrier. with wife linda, paul started the recording sessions of 'ram' in new york with various session men at his side. now onto the music:
1. too many people - the album opens with chugging acoustic guitars & paul yelling/singing "piss off yeah", which some, including myself, think was directed at former band mate john lennon. the actual song seems to be about paul's feelings for john at this moment in time. lines such as 'too many people preaching practices' certainly refers to john & yoko's political activities at the time. but don't let all the bitchy lyrics get in the way of a truly great mccartney album opener. amazing acoustic guitar work from paul & great drumming from session man denny seiwell.
2. 3 legs - one of the strangest songs paul ever committed to tape, '3 legs' seems to be a joke that only paul & linda are in on. again lines such as "when i thought you was my friend" seem to be directed at john lennon. for me the highlight of the song is when it jumps out of its bluesy acoustic stomp into a rocking electric guitar led verse of paul singing "when i fly, when i fly above the clouds!". it then swings into a slightly different groove and then back into its original blues start. its typical mccartney in that he takes one line & plays it 3 different ways in order to create what seems like a whole song. other examples include: 'why don't we do it in the road', & 'that would be something'.
3. ram on - ukulele! the first time i heard this i couldn't help but smile. just a simple tune that would be throwaway for anyone else other than paul mccartney. oddly enough the ukulele is so out of tune, but it dosn't seem to matter. great harmonies from linda as well.
4. dear boy - great album track full of haunting harmonies from paul & linda. they must have spent hours upon hours rehearsing and tracking all of these layered vocals. elton john gave high praise to this albums use of interesting backing vocals, and this track really supports that.
5. uncle albert/admiral halsey - the US single from "ram", this song started out as a lullaby to paul's children. its really 3 songs rolled into one. starts with the 'we're so sorry uncle albert' bit then transforms into a fast moving falsetto bridge about being a gypsey..... don't get me wrong i really love it, just very odd. after that it storms into one of paul's catchiest chorus's he ever wrote "hands across the water, hands across the sky". the song went onto #1 in the US singles charts, if you care about that kind of stuff.
6. smile away - simple strait ahead rock song paul can churn out in his sleep. my least favorite track on the album, but by no means a bad song. its fun and a bit silly. "man i can smell your feet a mile away, smile away!"
7. heart of the country - lazy breezy song about paul & linda's time spent living in scottland. has some really nice jazz guitar played i believe by hugh mccracken. i could imagine john lennon & george harrison not liking this song very much, so i guess its a good thing they decided to go solo cause i like it quite a lot.
8. monkberry moon delight - if u listen to only one paul mccartney song for the rest of your life, listen to this one! amazingly insane & super fun. its paul screaming about various craziness such as "well i know my banana is older than the rest, and my hair is a tangled morretta, and when i leave my pajamas to billy budapest, and i don't get the jist of your letter". amazing. listen to this one. p.s. john lennon said many times that this was his favorite solo paul song.
9. eat at home - 50's style rocker about eating in bed. great drums & electric guitar. def has some buddy holly vocal nods throughout, which only makes it that much better. great song.
10. long haired lady - to me this song sounds like all of 'ram' rolled into one: tons of harmonies, jazzy guitars, great drums, silly lyrics, & great melodies. to me this song really shows you just how much input paul had on beatle albums such as 'abbey road' & the whole medley on side 2.
11. ram on (reprise) - in case you didn't get enough of it the first time.....
12. backseat of my car - if you ever wondered what paul would have sounded like had he been in the beach boys then this song is for you. big production done to this one. full strings, echoing drums, reverb'd guitars, & lots and lots of harmonies. i really love this one and think its a great album closer.
i basically love 'ram'. i think you will too. give it a listen.